The food you eat profoundly affects your health and well-being.
Knowing where your food comes from, what's in it, and how it's processed is a key component of healthy living.
Do you know what's in your honey? We do.
We Harvest Our Honey From Our Own Bees and Package it Fresh on the Farm, Resulting in a premium fresh honey that is: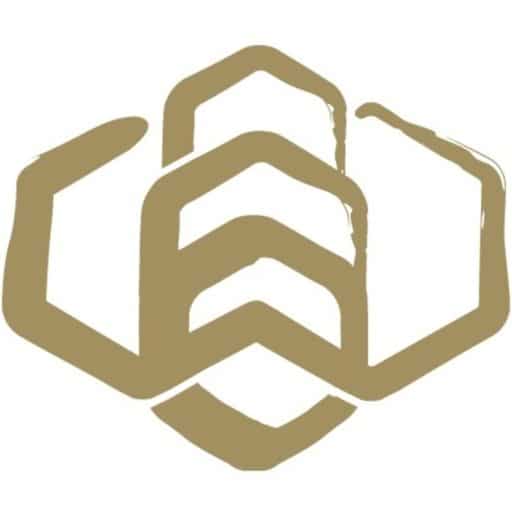 Unheated. Unfiltered. Contains all the proteins, minerals, vitamins and natural enzymes that provide anti-oxidant, anti-bacterial, anti-viral and anti-fungal properties of natural honey.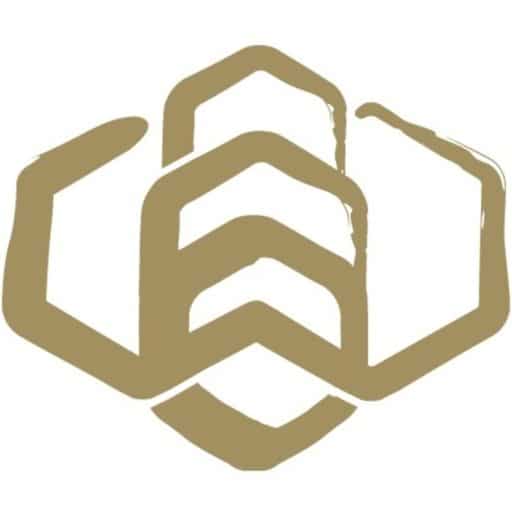 Nothing added.
Nothing removed.
Direct from our bees to your table.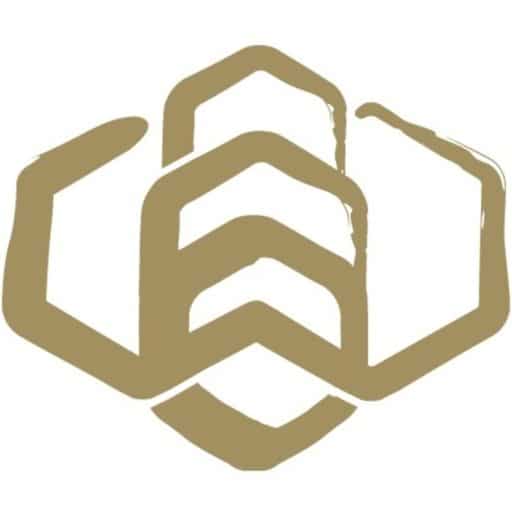 100% Natural prairie blossom honey from our own apiaries. And nothing else.
Never blended.
Never batched.
Get honey delivered
fresh
from our farm to your table.
To provide a raw, unprocessed, sustainably-produced food while promoting real, natural foods as a key component of healthy living.
To respect the value of the agricultural product we produce and the environment that supports it while spearheading efforts in promoting raw Canadian honey as a premium product around the world.

To be fully transparent and accountable to our customers, our business partners, and our employees.

We're not another bulk packaging factory with a slick marketing team – we're the real thing. Many honey companies buy bulk honey from producers like us, blend it, at times with inferior honey, and then market their brand as if they were the beekeeper.  We raise our own bees, harvest our own honey, and package it fresh on our farm. By introducing you to a uniquely fresh honey, we hope to change the way you think about honey.
The Wendell family farm has been producing honey since John Wendell started keeping bees in the 1930s. For decades we reserved the season's best honey to sell to dedicated local customers. In 2011 Tim and Isabel Wendell launched the Wendell Estate brand so that customers around the world who lack access to a trusted local apiary could enjoy natural, raw honey. We are passionate about our honey and invite you to enjoy our finest. Raw, pure, authentic honey direct from our bees to your table.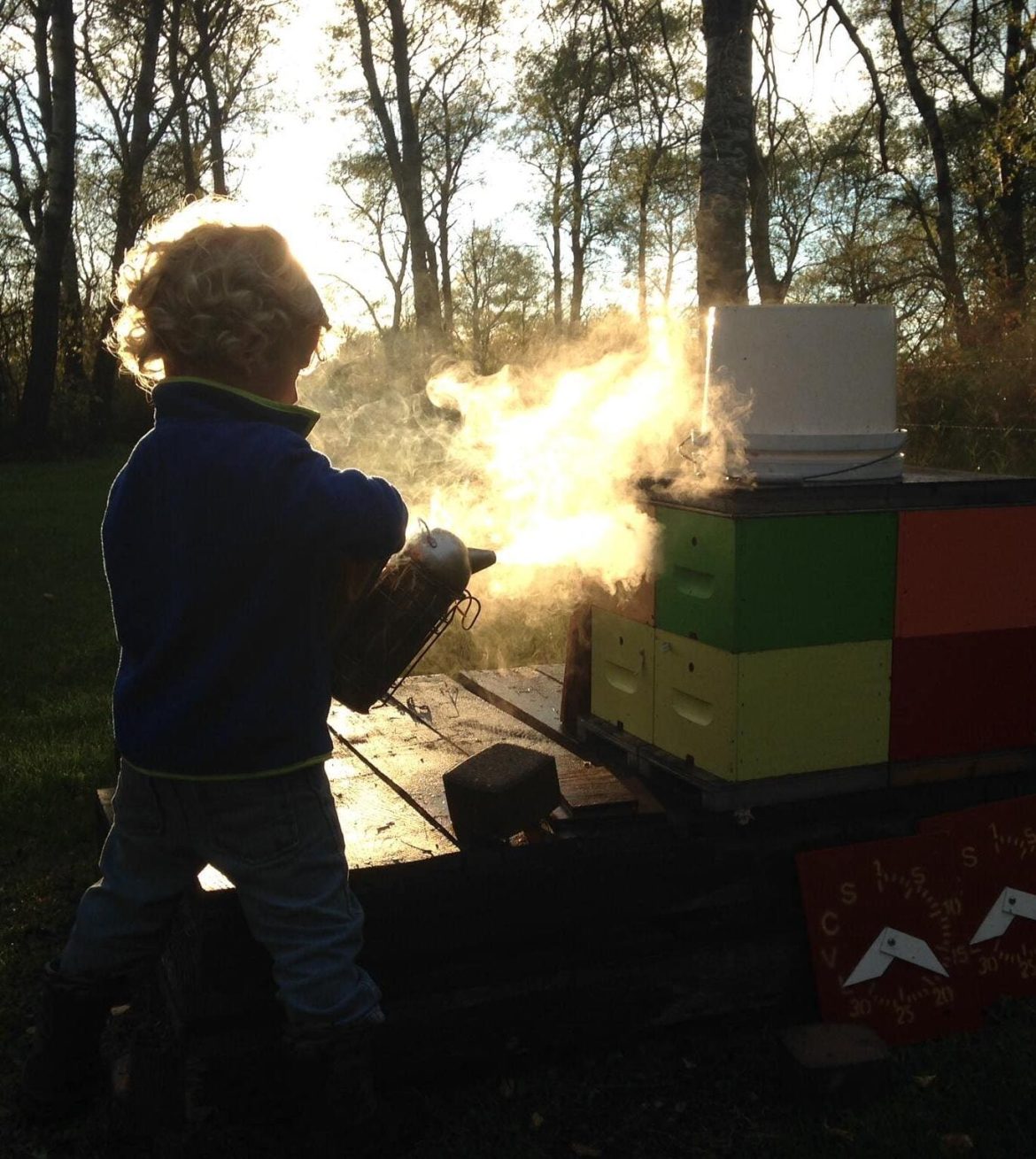 At Wendell Estate we are a family farm with a long beekeeping tradition. We ARE the producers of our honey. Every step of the way, from raising healthy bees to harvesting the honey by non-invasive, non-chemical methods, to sealing the freshly-harvested honey into jars, is done on our farm under our direct supervision.
We encourage people to ask themselves this question: Would you rather get your food from a marketing and packaging company, or from the producer?
We don't simply "support sustainable beekeeping", we live sustainable beekeeping. We are not simply a marketing campaign advertising honey sourced from vague honey farms located somewhere in Canada. We are real beekeepers located near MacNutt, Saskatchewan, Canada. For generations our family has been involved in all aspects of the honey and beekeeping industry. We are well-known and respected within the industry. We are completely transparent, and we encourage you to check us out and independently verify our claims. Most importantly, try our honey, especially if you don't like honey; You may be pleasantly surprised.
Wendell Honey Farms is the
only source
for Wendell Estate Honey
Wendell Estate Honey delights the senses: Striking white honey in an elegant glass jar. Fresh floral aromas. Unparalleled buttery-smooth texture. Initial tartness melts into delicate sweetness.
"Wendell Estate Honey has an incredible buttery honeycomb aroma. The flavour is tart, which gives way to a rich sweetness. I love the distinctive warm and floral flavours finish. The fact that the honey is balanced with a subtle tartness, makes it perfect for both sweet and savory enjoyment."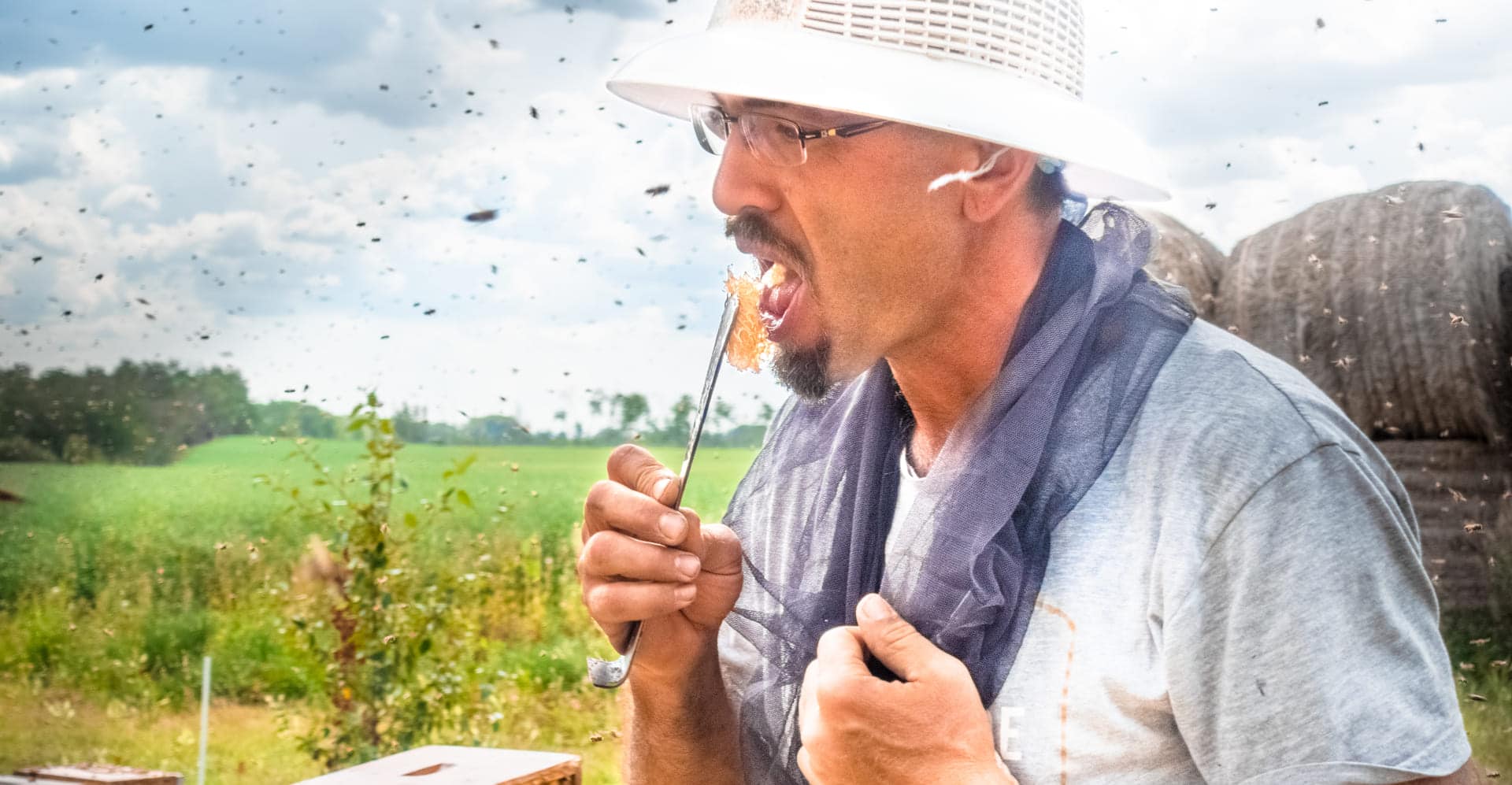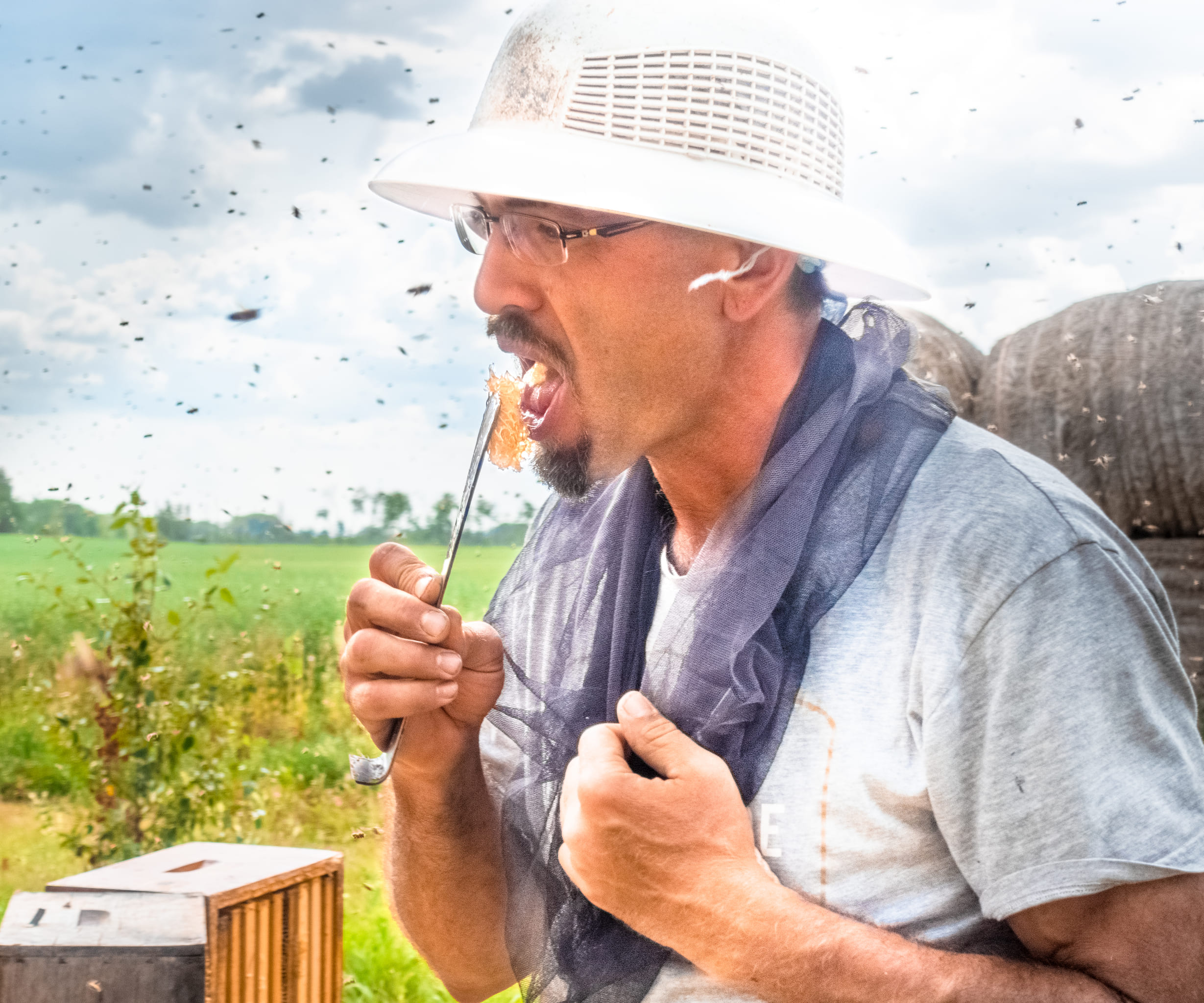 Traditionally most big-brand honeys on supermarket shelves has been pasteurized, ultra-filtered and blended. You are probably familiar with the translucent, uniformly amber-colored honey that stays liquid forever. This honey is convenient to use, with a long shelf life, and is a healthier alternative to processed sugars. But to fully obtain all the health benefits of "the nectar of the gods", honey is best enjoyed raw. While the pasteurization process prevents possible fermentation by killing off the harmless yeasts naturally present in much honey, it also destroys many of the enzymes which give honey its anti-oxidant, anti-bacterial, anti-fungal, anti-viral, anti-inflammatory properties and digestive tract benefits. Ultrafiltration removes the bee pollen which adds minerals, vitamins and proteins to raw honey.
Wendell Estate Honey is bottled fresh onsite after extracting it from the honeycomb so there is no need to heat the honey to transfer it from a large drum to the jar.
We do not filter our honey. We strain it to remove larger pieces of wax.
Wendell Estate Honey is neither creamed, nor whipped, nor mechanically ground. That silky-smooth texture results from carefully chosen, unheated honey naturally micro-crystallizing in the jar.
[The] ability to go right to the source of where the food comes from, to me, has always made the most amount of sense. The shorter the distance from the producer to the plate, is always going to be the best-tasting product."
Master Chef Michael Allemeier
[The] ability to go right to the source of where the food comes from, to me, has always made the most amount of sense. The shorter the distance from the producer to the plate, is always going to be the best-tasting product."
Master Chef Michael Allemeier
Honey is the 3rd most adulterated food in the world. Keeping healthy bees and harvesting real honey is a labor-intensive, costly endeavor in which final crop yield ultimately depends not only on good beekeeping practices but also on weather and local agricultural practices. The global supply of natural honey is limited, while demand grows steadily in our increasingly health-conscious world. Real honey is valuable. Unfortunately, it is not easy to distinguish pure, natural honey from honey adulterated with much cheaper, readily manufactured corn, sugar, or rice syrups. Profit margins entice unscrupulous packagers and even beekeepers to adulterate their honey with other sugar products, or with illegally imported honey that may contain harmful substances. Raw honey may not be raw. Honey packaging companies need to transfer the normally-crystallized honey from bulk drums to retail jars. This process is more efficient at high temperatures when the honey is less viscous, giving packaging companies a significant financial incentive to heat the honey well beyond 40°C (the defining limit of raw honey) while neglecting to mention this. The fewer parties involved in getting the honey from the beehive into the bottle, the fewer chances for somebody to sneak in some non-honey "profit-booster". Vice magazine did an excellent piece of investigative journalism and describes these issues in detail here. Wendell Estate Honey has been tested many times by Sweetwater Science, Intertek, and Bureau Veritas and has always passed in every respect (no surprise to us).
Every drop of Wendell Estate Honey is harvested by us on Wendell Honey Farm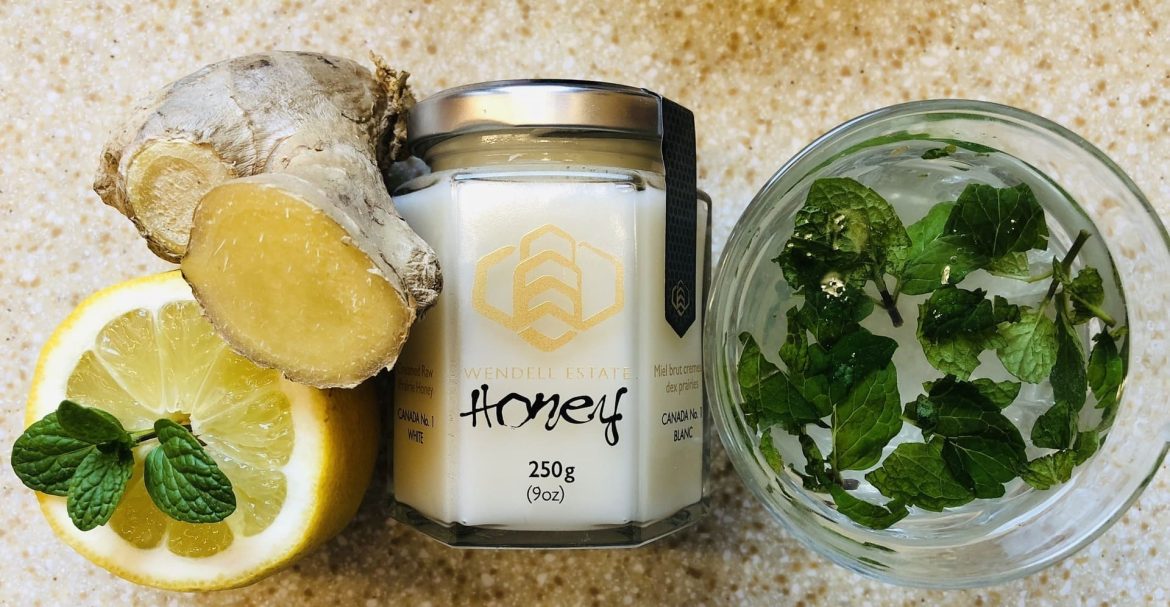 Like most honeys (yes, even those that name a single flower on the jar), our honey is multi-floral: the bees forage a variety of flowers to make the honey.  Honey bees fly up to 5 km (3 miles) foraging for nectar and pollen. Rather than claim a specific floral source, we acknowledge that the bees have foraged far and wide for to gather honey. We choose our honey based on the characteristics of the resulting honey. Here, on the Canadian prairies, the season starts with silver willow blossoms, carrying on through the dandelion peak into various wildflowers, flowering agricultural crops, garden flowers, tapering into autumn with late-blossom hay. Wendell Estate honey is made from clover, alfalfa and canola as well as an assortment of prairie wildflower and garden-flower honey.